Our Mission
The Adventures of Zak

Magical Music for Life's mission is to better the lives of children through the impactful and extraordinary power of music.
We accomplish this by developing and producing a wide range of musical projects that deliver positive, inspirational, and educational messages to children and their families. Through our songs, performances, and projects our goal is to engage children and transform the way they understand themselves, others, and the world around them.



In accordance with our mission, Magical Music had produced a wide variety of musical projects:

Touring shows with positive and inspirational messages to bolster self-esteem, encourage individualism, & thwart bullying have been written & performed.

An on-going library of songs (and touring show) written specifically to meet the learning needs of children with autism and special needs, as well as all preschool children, has been made available free of charge on the web at www.magicalmusic.org. This includes our latest album for water safety written for an all-inclusive young audience.

Original songs written specifically for many major charities have been performed at charitable events throughout the northeast. Magical Music has produced several major concerts and raised thousands of dollars for children's charities. One of these concerts is its annual TUNES IN TIMES SQUARE in New York involving the Broadway community and talented young performers from across the nation.

The foundation's music has been performed at numerous events, among which include The United Nations in support of the first World Autism Awareness Day, The White House Easter Egg Roll, Citi Field, and the Tribeca Film Family Festival. Also, it has been performed in schools, pediatric hospitals, and the Boys and Girls Clubs.
Through its original music, the foundation strives to improve (and help save from drowning) the lives of children and their families everywhere.



The Magical Music for Life Foundation was formed in 1999 by parents concerned with the messages children were receiving from the music, TV, movies, advertising and video games they were exposed to. Bombarded with age inappropriate media that often focuses on sex and violence, it became clear to them that their children were missing the wholesome messages that were so much a part of their youth and the generations before them.
The founders concluded that parents, teachers and other guardians of our children were at a disadvantage in competing with these well-funded commercial ventures. How could a parent's five minute oral explanation that "fighting is bad" compete with a three to five million dollar production of a video game that a child may play for hours, a game in which points are based upon body counts.
Working under the premise that music is an effective and popular medium for communicating with children, the founders pulled together a team of professional musicians, actors, writers and producers to use the power of music in a more constructive, responsible fashion.
The foundation's first two musicals, The Adventures of Zak and Russell, the Hermit Crab, were created, written. and produced as family musicals, with wholesome messages for children that would bring families together to enjoy the magic of live musical theatre, raise money for pediatric charities and offer some children a chance to sing on stage with a professional cast of actors. Many inner-city children have had extremely limited exposure to live theatre, and those in pediatric hospitals benefit greatly from the diversion and joy of a live musical performance. These are two important target audiences for Magical Music's outreach efforts.
Since April, 2000, The Adventures of Zak and Russell, the Hermit Crab have been performed in numerous theatre spaces in seven states as well as at the White House in Washington, D.C. Fifty-three charities and special events used the show which played to over 27,000 audience members. Over 600 children have shared the stage with the professional actors, singing in the guest chorus in the finale.
After these two shows, we produced two more musicals, Two Little Snowflakes and A Day in the Life of a Child: Musical Revue, which joined our numerous songs for charities and Songs for Skills (written for children with autism and special needs as well as for water safety). These shows have been staged in two states and many venues including libraries, special needs schools, and charity events.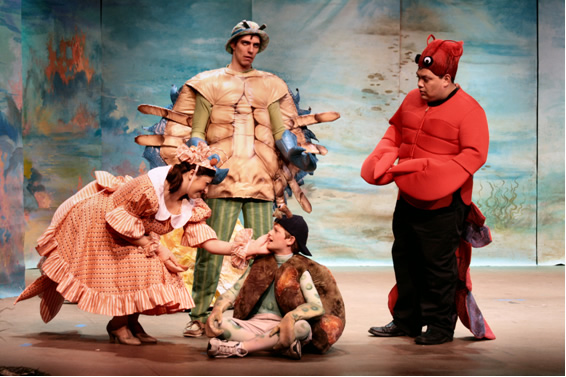 "You don't have to worry, Russell, we'll be there for you!"