TUNES in TIMES SQUARE Performers
Want a chance to sing "on Broadway"? Would you like help others by using your talents? Come perform at our all-day event to support Magical Music for Life's mission to help children with special needs learn life skills and save the lives of children with and without special needs from drowning deaths and injury!
TUNES IN TIMES SQUARE is an event that includes talented amateur and Broadway performers on the same stage in Times Square. Generally we set up on Father Duffy Square and the Broadway Plaza between 46th and 47th Streets (the same block as the TKTS and grandstand). Though this is primarily a sing-a-thon, we have a combination of soloists (duets/trios), singing groups, and dance troupes from all over the country participate in support of our mission. Since this is a fundraiser and outreach event, we do have a service element to the participation.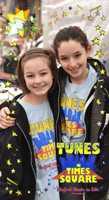 How we select participants:


Returning performers and groups will be invited to return.


Most new performers are recommended by previous performers, teachers, schools, and talent "scouts."


We welcome requests by new amateur singers 3rd grade through college and professional singers to perform at TUNES IN TIMES SQUARE. We will require information about you (resume) be emailed as well as either an emailed video clip of you singing, YouTube link, or audio file.


Singing and dance groups are invited to contact us to perform.
After you are invited to perform at TUNES IN TIMES SQUARE:

You will receive a registration form to fill out.


There are some requisites for participation. See below *.


At the time of registration you will receive the maximum song length scheduled for your performance. Solos, duets, and trios receive a one song time slot and groups receive a longer slot which can include up to three songs. Your song(s) needs to be approved in advance to avoid duplication and inappropriate songs relative to your age and the audience.


We will need from you prior to the event a very short bio for the emcee to introduce you and an mp3/ mp4 of your music to load into our audio system.

You will receive a regular TUNES TIME emails throughout the months before the event to keep you informed and containing any deadlines.


There are NO rehearsals before the event run by Magical Music for Life and no big closing number. We expect everyone to come prepared on the day of the event.


On the day of the event you will check early, receive your TUNES shirt to wear, and at the required time check in at the performers tent to wait to go on stage. The emcee will introduce you as you come to the microphone, you will have the stage to yourself to perform, and after the applause leave the stage.


Most performers, unless they have another commitment, like hang around before and/or after to enjoy the performances, support fellow performers, and visit with new and old friends.

We have a photographer(s) at the event who captures your time on stage and candid moments off stage. A link to the photos is sent to you after the event.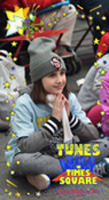 * Since this is a fundraiser in addition to an outreach event, the following are requested for participation:

Amateurs and Broadway youth who have not been in a show within one year/not going into a show by May: 1) A nominal registration fee to cover the cost of the TUNES t-shirt, etc. to be paid at the time of registration; 2) A minimum pledge level be achieved by the time of the event (you will receive pledging tools to help you and have a link on our website); and 3) Volunteer time at the event by the performer and one parent.


Other Broadway performers are asked to help with auction items, recommend performers to invite, sign our posters/available for photos, and optionally volunteer if they would like (many do).


Groups are charged a registration fee and requested to also get pledges if possible.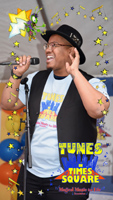 Come join us ... use your talents and give of your time by participating in this event. It will be one of the most fun and rewarding things you will ever do and ... you will remember it for a lifetime!
We are waiting to hear from you. If you would like to perform at TUNES IN TIMES SQUARE, please contact us at info@magicalmusic.org.