Songs for Charity Events

A charity event can be enhanced with the performance of a special song which is written especially for the event. The creative team of Magical Music has written four such songs to date, which have usually been performed live by the Magical Music Singers. If you are interested in having a song written for your charity, please contact us at info@magicalmusic.org.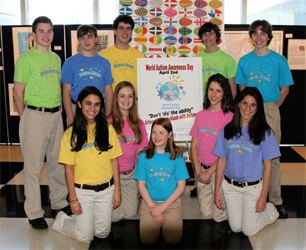 Horizons Student Enrichment Program
(also used at United Nations World Autism Awareness Day)
"There's a light that's deep inside that's gotta be free.
Everywhere you go you gotta let people see.
All it takes is someone who believes what you can be so you can shine,
And light up the world."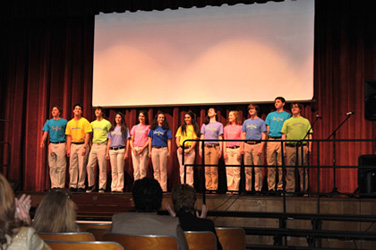 Stand Up To Cancer
(One Town ... One Voice concert)
One Town … One Voice
"There's a cause that's knocking at our door, and it's growing over time.
No longer is it his or hers; let's make it yours and mine.
For those caught in the battle, it's time we made the choice.
Let's all stand up together and unite, one town, one voice.
One town, one voice! That's how we'll do it!
One town, one voice! We'll all get through it!
It's time, time to begin. That's how, how we can win, one voice …
One town, one voice!"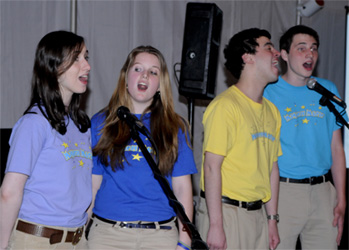 Child Guidance Center of Southern Connecticut
"When a storm arises, and you know they often do,
Sails can be adjusted to make a change or two.
And change is often good, my friend, to find out who you are.
Enjoy life's great adventure, and your ship will take you far."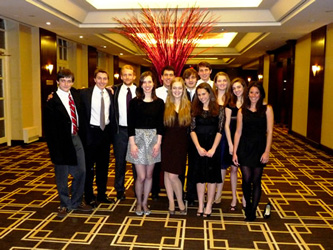 Habitat for Humanity - Hearts & Hammers' 25th Anniversary Gala
Turn It Into a Home
"When the giant wheel of life spins you an awful blow
Take heart and rest assured that there are people you don't know
Who come from 'round the corner, up the street and cross the town.
We are here to help you get your feet back on the ground.
We'll build a house, four walls and a roof with wood, brick, mortar or stone.
It'll keep out the cold, the rain and the snow so you can turn it into a home."
Habitat for Humanity's Katrina Relief Concert
Carry On
"You can take all my belongings, take my car, my house, my home.
You can tell me I've no place to go except the Astrodome.
Though all I had is lost and gone, I know I'll make it through,
'Cuz I was born in New Orleans, and that's just what we do.
We carry on, sister and brother. Carry on for one another.
We'll carry on, and with the sun each dawn
We'll rise up too ... and carry on."
To hear sample clips of three of these songs, click the links above or click here.