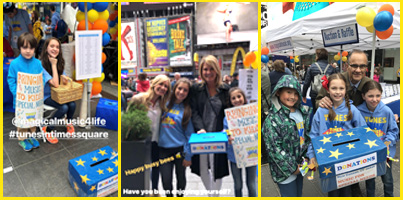 TUNES in TIMES SQUARE Donations
Support the performers who will be singing as well as volunteers and creative staff working to help children with special needs learn life skills and save the lives of children with and without special needs from drowning deaths and injury . . . with your donations!
Magical Music for Life and the participants in this event need your financial assistance to produce and distribute more original songs to be available at no charge to serve the specific needs of therapists, parents, and children and as an accessible resource for people everywhere. TUNES IN TIMES SQUARE, our largest fundraising and outreach event, is funded in part by pledges and donations from people like you. As participants in the sing-a-thon, the performers are collecting pledges. Also, general donations can be made in support of the efforts of the volunteers and others in making this event happen and the creation and outreach of our special needs and water safety music.
If you would like to make a donation to support a specific singer in their pledge efforts or a general donation to Magical Music for Life (MMFL) online, please click one of two buttons below to make a credit card donation. For specific singers, you will be taken to the page with alphabetically listed first names and the initial of the last name; click "Donate" under the name for who you are pledging. For singer pledges you will now be taken to the PayPal page; general donations are directed to the same page by clicking the button below. Follow the directions as indicated to make your credit card donation. When your transaction is complete you will receive a confirmation email of your donation for tax purposes. A thank you letter from Magical Music for Life will follow later.




Check donations can be mailed to: Magical Music for Life, P. O. Box 804, New Canaan, CT 06840.
All donations will be greatly appreciated!