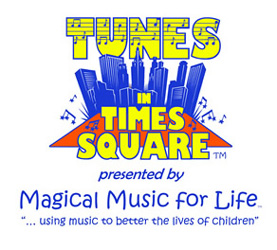 TUNES in TIMES SQUARE Overview
The next TUNES IN TIMES SQUARE ...
Sunday, May 3, 2020 at 10:00 - 6:00
Broadway Pedestrian Plaza between 46th & 47th
Times Square, New York
We will be singing songs all day long
to help children with special needs learn life skills and save the lives of children
with and without special needs from drowning deaths and injury
Magical Music for Life Foundation is thrilled to present its 8th annual TUNES IN TIMES SQUARE benefit concert Sunday, May 3, 2020 on Broadway between 46th & 47th Streets in Times Square. We have been holding this event in Times Square every year since 2012, only taking a year off in 2019. In keeping with our mission to better the lives of children through the use of music, the purpose of this concert is to introduce our free water safety album songs, foster awareness of our music and touring shows for children, and to raise financial support for our ongoing outreach and production of free music for children with autism and special needs.
The event will be a continuous sing-a-thon, where preselected, talented children and groups from the tri-state area will join the Magical Music singing groups taking turns singing from 10:00 a.m. - 6:00 p.m. raising money from pledges and donations. There will be performances by over 60 Broadway adult and child actors, as well as performances from select Magical Music musicals.
At the event there will be many exciting items in the auction & raffle, including tickets to Broadway shows / other events many with backstage tours and signed memorabilia, travel, dining, unique & autographed items, etc. TUNES shirts will be available. Donations will be gladly accepted at TUNES IN TIMES SQUARE or TUNES IN TIMES SQUARE Donations.
2020 event information is not yet available. The links below will give you information about what to expect based on previous TUNES. In 2020 it will be updated with current information.


About Event: List of performers, schedule for the day, and TUNES brochure(s)


Photos from past years: Photos from 2012 - 2018 (no TUNES in 2019)
We are now accepting participation requests and offers to volunteer, be a sponsor, and donate auction items.
If you are interested in participating in this upcoming event by performing, volunteering, or becoming a sponsor, please go to the "Want to Participate" pages highlighted to the left for information and/or contact us at info@magicalmusic.org. To donate auction items, please contact us at info@magicalmusic.org.




How can you help Magical Music for Life produce and distribute this much needed music to those who want and need it for free?
In part TUNES IN TIMES SQUARE's mission is being funded by pledges and donations. As participants in the sing-a-thon, the singers and dancers are collecting pledges. Also, Magical Music for Life is collecting general donations. If you would like to make a donation to support a specific singer in their pledge efforts or a general donation to Magical Music, please click one of two buttons below to make a credit card donation. Check donations can be mailed to Magical Music for Life, P. O. Box 804, New Canaan, CT 06840. All donations will be greatly appreciated. Make a pledge for a specific singer for 2020 or general donation now at TUNES IN TIMES SQUARE Donations
Another way to help is to bid on our fantastic auction items and to buy raffle tickets. We have amazing opportunities for bidding and winning – signed memorabilia, tickets with backstage visits, trips offering great experiences, dining, and much more. Most of the auction items will be available for bidding online before the event with the final bids the day of TUNES IN TIMES SQUARE. Raffle tickets can be purchased at the event only. Learn more information about our auction and raffle and view the TUNES 2018 items at TUNES IN TIMES SQUARE Auction/Raffle



THANK YOU TO ALL WHO PARTICIPATED IN & DONATED TO TUNES in TIMES SQUARE!

See the 2018 thank you with photos