"The Adventures of Zak" Story Summary
"Belief in each other is like a match in the night.
Pass it lit to another, and their candle will light.
Think of this candle as the spark of their dream and help it to grow and gather up steam.

For if everyone's candle was encouraged to glow,
And everyone's dreams were encouraged to grow,
Oh, what a wonderful world it would be, far brighter tomorrow, don't you see?"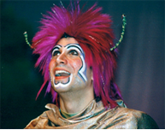 The story focuses around a zany, quirky, "Robin Williams" type character named Zak, who comes from a distant comet on a special mission: to get a child to believe in himself. If he succeeds he is rewarded with glorious new star-shaped, lightning bolt-decorated wings, and a wishing star is named in his honor.
Armed with music and humor, Zak takes the three children he meets on a timeless musical adventure, exploring the issues and frustrations of growing up.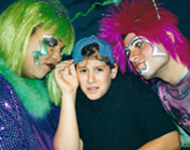 "It's like an echo in your ear:
What you give is what you hear.
If being angry is your thing,
What do you expect the world to bring?"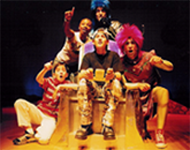 "If you can't find happiness in what you do,
And the world around seems rather blue,
Then rearrange your attitude.
Show a little gratitude,
And the world will shine anew!"
"Learning, just like growing,
Can't be measured day by day.
So just be patient. Do your best,
And you'll be on your way."
In the final reprise, the three children come to realize that the key to believing lies within themselves, and the choices they make day to day.
"We all have struggles we go through now and then.
But how we choose to deal with them is our choice in the end.
We can choose to try or choose to quit, choose to smile or throw a fit.
But in the end the choice is up to me."
In an emotional final song, Zak, with his new wings, bids his young friends farewell, joined by the entire cast and a guest chorus of youngsters from the local community or sponsoring charity.
"Your heart's like a compass deep inside, pointing the direction you should ride,
So always use it as your guide.
Be strong. Stand on your own two feet,
Not scared to walk a different beat,
Your compass will always be your guide."




To learn about the back story of The Adventures of Zak, go to The Adventures of Zak

For information about past performance of the show, go to Past Performances

To hear sample clips for The Adventures of Zak album, go to Sample Music

To download single songs or the entire The Adventures of Zak album, click here